The community battery works by allowing local residents to store their excess solar power, and is the first of its kind on Australia's east coast.
The launch of the community battery marks the start of a two year trial being run by Ausgrid, that aims to transform the way solar energy is stored, reduce resident's hip-pocket costs and is a big step towards cost effectively increasing the amount of clean energy that goes into the grid.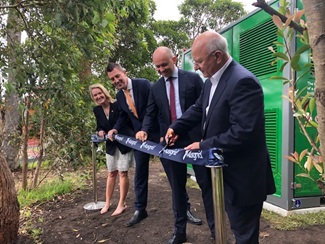 Ausgrid CEO Richard Gross welcomed NSW Minister for Energy and Environment Matt Kean and Northern Beaches Mayor Michael Regan to the unveiling today.
"This is an exciting milestone for Ausgrid and the first step in our community solar battery project which we know can benefit customers by keeping downward pressure on energy prices by reducing peak demand, and supporting the use of renewable energy," Mr Gross said.
"Put simply, a community battery allows multiple households within a certain radius to 'share' a storage system for the excess energy generated by solar panels. This can save households thousands of dollars on the upfront cost of an individual battery, and allow them to effectively use more of the solar energy their home systems generate – bringing down their electricity costs.
"We believe community batteries are the most cost effective way to bring renewable energy into the grid. They provide a service to the residents, allowing them to store their solar, a service to the community by supporting the local network and they provide system security benefits by helping to firm renewables wherever they are generated.
"We are confident the trial will show that community batteries have a huge role to play in the low-cost transition of our energy system," Mr Gross said.
Minister for Energy and Environment Matt Kean said the NSW Government welcomes innovative initiatives that help local homes and businesses reap the rewards of cheap, reliable renewable electricity.