What is an embedded network?
For some customer sites typically apartment blocks, retirement villages, caravan parks and shopping centers, the electrical wiring is configured in a way that enables the owner of the site to sell energy to all the tenants or residents based there. This is known as an embedded network.

The owner of a site with an embedded network usually buys energy from an energy retailer and then 'on-sells' the energy to the different customers at the site.
Example of a standard connection compared to an embedded network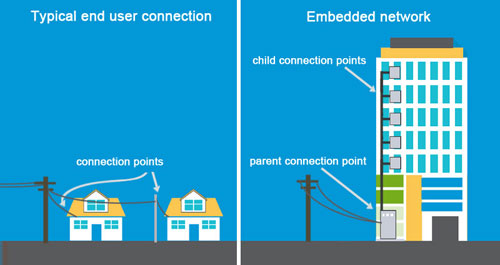 Anyone who wishes to on-sell electricity can be the owner of an embedded network. Commonly this is the owner of the building, developer and in some cases the retailer of the gate/parent meter.
The on-selling of electricity must be done in line with the requirements set out in the National Energy Retail Rules, and in some cases an exemption from the AER (Australian Energy Regulator) is required.
For more information relating to embedded networks in Ausgrid's network area refer to the Guidelines for Establishing an Embedded Network.

Process for applying for an Embedded Network
Complete a Preliminary Application form (NECF-01) and submit to datanorth@ausgrid.com.au. Your application should include an outline of the proposed works. Please tick the Embedded Network checkbox. One Preliminary Application form will be required for each Parent/Gate NMI.
Once the application has been submitted, an Ausgrid NEMS (National Electricity Market Support) Consultant will be assigned to liaise with the applicant. Initial application charges are outlined in Ausgrid's Connection Policy.
Ongoing charges may apply for brownfield conversions in accordance with the above policy guidelines. These charges will be applied at an hourly rate for the market settlement and the extinction of redundant NMI's.
Apply for a connection for an embedded network
If you prefer, you can fill out the Excel version on your computer.
Our guide to completing a connection application form will assist you to complete your application. Please note, if the information marked with an * is not fully completed the application will not be processed.
Disclaimer: The role of the NEMS consultant is to advise the applicant on how to set up the Embedded Network from an Electricity Marketing Perspective whilst meeting the guidelines set by the NER and NSW Service Rules and other governing bodies. The preliminary enquiry form does not replace the requirement to submit the NECF-03 form required for Large Customers where load approval will be required.
Additional resources