What is a Stand Alone Power System?
Ausgrid is trialling Stand Alone Power Systems (known as SAPS) to;
Improve reliability for remote and regional customers
Increase cost savings for all customers
Provide a safer network for all customers and our work force
Support the transition to renewable energy.
The Stand Alone Power Systems will be trialled initially in the Upper Hunter and Hunter Valley areas.
Over the next two years, Ausgrid will offer targeted landowners in the identified trial areas, who live in hard to access or remote environments and where the supply of electricity is likely to be more efficient via a Stand Alone Power System, the chance to be part of this innovative program.
Stand alone power systems operate independently of the grid and supply continuous power 24 hours a day, using a mix of solar and battery storage and backup generation.
It is a local solution that allows customers and the wider community to share in the multiple benefits that stand-alone power systems can provide. The Ausgrid Stand Alone Power Systems trial aims to show how;
Who will be in the initial trial?
Ausgrid is looking for approximately ten landowners who live in hard to access or remote environments across the Upper Hunter, Muswellbrook, Singleton, Cessnock and Gosford local government areas to participate in our initial SAPS trial.
We have recently distributed a survey to around 2,500 customers to understand community perspectives on SAPS and identify suitable participants. If you are interested in further information, or to participate in future SAPS trials click here to register.
What are the benefits?
The key benefits of a SAPS deployment will be the reduction in cost of maintenance and an increase in resilience and reliability of the customer supply for those hard-to-reach areas of the network.
Future benefits of a successful trial include a reduction in bushfire and safety risk when remote poles and wires are able to be removed. Also, where there are clusters of inhabitants, these systems could be expanded into a micro-grid. This trial is a first step and if successful will inform a potential larger trial.
Standalone Power Systems (SAPS) FAQs
Our FAQs provide info about the trial as well as general and technical information.
What is a Stand Alone Power System?
A Stand Alone Power System consists of;
a solar PV array (typically mounted on a frame on the ground)
a storage battery and
a back-up diesel generator.
It would mean electricity would be generated on site, rather than coming from the wider electricity network.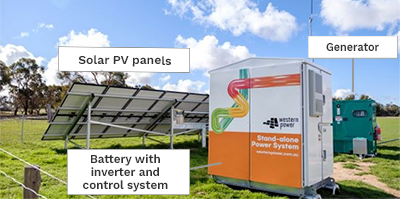 This image shows a system on a property in Western Australia, which is similar to the type of system Ausgrid is considering in NSW.
Credit: Western Power.
Why is it needed?
Some remote parts of the network are very expensive to maintain or may suffer from reliability issues.
With advances in solar and battery technology a Stand Alone Power System may be more cost effective and reliable than maintaining or replacing the existing network connection in these areas.
Why is the generator required?
The generator is required to ensure reliability, however, typically the generator would only be run for very small periods of the year when there isn't enough sun to charge the batteries (for example 4 - 5 days spread across the whole year).
How big is it and where would it be installed?
This depends on how much electricity is needed, but would typically be the size of a couple of shipping containers, including clearances to ensure year-round sun access for the solar panels. It would be installed near the existing network connection, if suitable land is available.
Will customers have a choice?
Yes. Ausgrid will only seek to install SAPS where it is beneficial to do so and the property owner has provided consent.
Is it safe?
The technology has been deployed safely in networks across Australia. Introduction of SAPS will allow poles and wires to be removed from the network, reducing risks, particularly in bushfire prone areas.
Is it reliable?
These systems should be at least as reliable as, or more reliable than your current supply. Ausgrid is conducting a trial of SAPS to assess whether they provide a more reliable and resilient supply to those customers.
What would it cost?
The system would be owned and maintained by Ausgrid, so there would be no new costs for the customer. Customers would still be able to change electricity retailer to secure the best energy plan, like they can today. Over time, Ausgrid anticipates that the SAPS will lower the cost to maintain the overall network, creating indirect savings.
How would it be maintained?
Ausgrid or its contractors would conduct periodic maintenance of the Stand Alone Power System (between 1 and 4 x 1-hour long visits a year with pre-notification), at no cost to the customer. The SAPS will form part of our network infrastructure.
The customer would just need to agree to on-going access to the land to ensure Ausgrid can maintain the equipment and refuel the generator. We already do this with many of our customers where Ausgrid assets are located on customer's property.
Have another question? Email Ausgrid Innovation Program on innovation@ausgrid.com.au.